Kompakt bilstøvsuger
Rengør dit bilinteriør på få minutter – hvor som helst og når som helst!
*Bestil i dag og spar 64%.
Føles det som en krig, at holde bilen ren? Forestil dig, at din bil altid er ren, selvom du bruger 53% mindre tid på rengøring. Med en Auto Buddy® har det aldrig været nemmere, at holde bilen ren.
53% HURTIGERE
Kender du dette? Du har brugt en time på at rengøre bilen, men to dage efter, er din bil lige så beskidt, som den var før. Du er frustreret. "Hvorfor er min bil allerede beskidt igen? Jeg har lige gjort den ren!" Med en Auto Buddy® kan du holde din bil skinnende ren hele tiden, og samtidigt reducere din rengøringstid med 53%.
2000% MERE EFFEKTIV
Kompakt bilstøvsuger avancerede HEPA-filter er 2000% mere effektivt end almindelige papirfiltre. Åbn dit handskerum, tag din Kompakt bilstøvsuger og nyd at støvsuge madkrummer, hundehår og væsker med brutal sugekraft. I alle hjørner og kroge, mellem sæderne og på gulvet – brutalt, præcist og akrobatisk.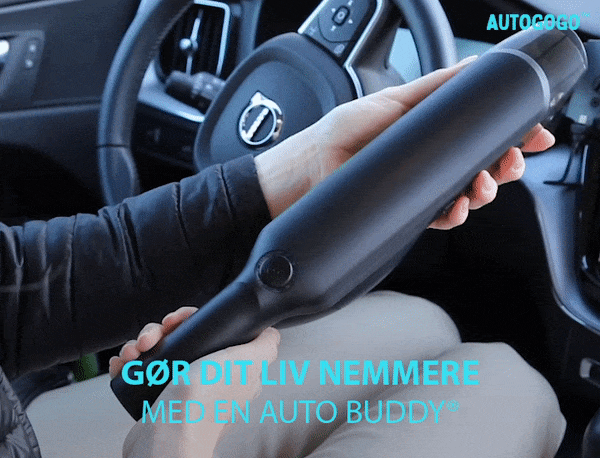 FØLELSEN AF NY BIL
Tænk at have en så ren bil, at folk vil tro, at du lige var kørt ud fra bilforhandleren. Med en Kompakt bilstøvsuger har det aldrig været nemmere, at holde bilen ren. 4.283 danskere bruger allerede den populære Kompakt bilstøvsuger, og vi er Danmarks eneste forhandler.
30 DAGES TRYGHEDSGARANTI
Prøv en Kompakt bilstøvsuger 100% risikofrit! Vi er sikre på, at du bliver lykkelig over din rene bil. Derfor tilbyder vi 30 dages tryghedsgaranti. Utilfreds = alle pengene retur!
Lars: "At støvsuge sin bil er en tidskrævende byrde, og derfor er jeg stor fan af bilstøvsuger. Jeg har aldrig brugt så lidt tid på rengøring og samtidigt haft en så ren bil!"
Spar tid og penge med Kompakt bilstøvsuger. Nu kan du rengøre dit bilinteriør lige så effektivt som professionelle bilrensere, men med mindre tid og kræfter!
Dyb Allroundrengøring: Dette mini-støvsuger er udstyret med forskellige typer fastgørelsesudstyr, der hjælper dig med grundig rengøring af bilinteriører, sofaer, skuffer, trapper og mere:
Disse tilføjelser hjælper med at indsamle støv, snavs, brødkrummer, kæledyrshår og alt andet fanget i trange rum eller sprækker.
Motor med høj effekt: Udstyret med en 120W motor med turbinemotor, der giver stabil, kraftfuld 4000PA cyklonsugning, får høj ydeevne i dette praktiske værktøj.
Med et vaskbart HEPA-filter og 600ML støvkop med stor kapacitet rydder du op igen og igen med stor størrelse og kraft.
Fungerer hårdt: Vores kompakte bilstøvsuger bruger 2 x 2200 mAh lithium-ion-batterier med høj kapacitet, der kan oplades fuldt ud på 3-4 timer og giver 20 minutters brug pr. Opladning.
Strømindikatoren advarer dig, når opladningen er ved at blive lav.
Let og kompakt: Dette must-have vakuum fås i to muligheder – kablet og trådløst – til ergonomisk brug for at imødekomme dine rengøringsbehov. Hver model vejer mindre end 21 oz for nem bærbarhed.
Pakken inkluderer:
1 x kompakt bilstøvsuger